WISING ALL OUR MEMERS A VERY HAPPY MEMORIAL DAY WEEK END.
THE VILLAGES PARKS AND RECREATION DEPARTMENT
HAS CANCELED ALL RECREATION CENTER ACTVITIES.
UPC SESSIONS ARE CANCELED UNTIL FURTHER NOTICE....
PLEASE FOLLOW ALL THE  QUARANTINE AND SOCIAL DISTANCING RECOMMENDATIONS TO STAY SAFE AND THOSE WHO ARE DEAR TO YOU SAFE.
WE'LL BE BACK, AS STRONG AS EVER.
MARC, JOHN, WAYNE AND TIM WILL BE PLAYING ON MONDAY, June 1st, FROM 9 AM TIL 10 AM IN A   "SIDEWALK SERENADE" WITH SPARKEY'S STRUMMERS AT BOB & LINDA BETZ'S HOME AT 2441 ADRIANA WAY, VILLAGE OF HEMINGWAY,
MANY OF OUR FRIENDS FROM OTHER CLUBS ALSO PLAY WITH THIS CLUB.
YOU ARE ALL INVITED TO STOP BY AND LISTEN.
SOCIAL DISTANCING ETIQUETTE REQUESTED.
FUTURE STOPS FOR THE "SIDEWALK SERENADE" ARE:
THURS., 6/4, AT 9 AM AT BILL RUMPH'S HOUSE AT 1247 COMARO DRIVE, VILLAGE OF SANTO DOMINGO.
MON., 6/8, AT 9 AM AT GARY DAVIS' HOUSE AT 241 BISHOPVILLE LOOP, VILLAGE OF MALLORY.
THURS., 6/11, AT 9 AM AT JOHN FRIED'S 'S HOUSE AT 889 FOLKSTONE DRIVE, VILLAGE OF HEMINGWAY.
MON., 6/8, AT 9 AM AT GARY DAVIS' HOUSE AT 241 BISHOPVILLE LOOP, VILLAGE OF MALLORY.
STOP BY AND LISTEN TO SOME GOOD MUSIC.
FYI ......THE VILLAGES ENRICHMENT ACADEMY IS COMMENCING CLASSES AS OF JUNE1ST. CHECK THEIR WEB SITE AND VILLAGES RECREATION NEWS FOR INFO.
1. Please review the WEB PAGE and NEWSLETTER occasionally for further information regarding future UPC Activities.
2. Vinnie's Rock Shop is cancelled until further notice.
Thank you for your cooperation in this matter.
New Song Suggestions for the UPC Song Book
Jean has opened the New Song Suggestions for the UPC Song Book for this year.
New songs should be sent to Jean at the site below.
Please use a clear copy including all lyrics and chords.
Songs will be considered based being appropriate for the UPC experience.
We will work on songs selected through the summer months during the Performance Group session at the end of our regular one hour session. Based on those performances we will select the appropriate songs.
New songs will dictate the removal of other, less popular songs, from our weekly menus. This is done to keep the menus one page long and legible.
New song suggestions will be accepted during April and May.
No suggestions will be accepted after May 31st.
Thank all for your interest.
For those of you who are in need of some strumming during this quarantine
Check out these web, face book and you tube sites for some ukulele fun:
Quarantine got you down. Pick up your ukulele and play and sing with UPCmember Marcwho sings regularly from his home in the Villages. To follow along or join him on Facebook. Look for Marc Rhoadesand/or MrBluSkies Entertainment at www.mrbluskies.com.
You can send him a friend request and/or can follow the MrBluSkies Entertainment page.
WEB SITE FOR THE UULELE ORCHESTRA OF GREAT BRITAIN TO GET YOU THROUGH THE QUARANTINE.
http://www.ukuleleorchestra.com/index.php/lockdown
Ukulele Tutorials and Play Alongs on YouTube:
Christopher Davis-Shannon: ukulele tutorials and play alongs.
Dani Usero: tutorials on youtube, DaniUkuleleWorld.
Zander Bauch: listen to good ukulele playing and singing.
Nico Perez: again, listen to good ukulele playing.
Kevin Presbrey Ukulele: AllForUke, tutorials and play alongs.
Abby Lyons: sing-along, tutorial, listen to Abby play and sing.
The Uke Revolution, Brooke Palmer, sing along, tutorial, listen to Brooke play and sing.
Sho Humphries: play along and listen to Sho play the ukulele.
Cynthia Lin Music, lots of tutorials and sing-alongs
Ukulele Mike Lynch: the granddaddy of uke teachers, tutorials and play-alongs.
Ukulele Go: lessons, blogs, and so much more.
EZ Folks: ukutabs.com   Chords and lyrics for songs.
Aldrine Guerrero: ukuleleunderground.com lessons and play-alongs.
Youtube
Web Sites
Stu Fuchs: Ukulele Zen, www.stufuchs.com lessons and play-alongs.
Terry Carter: www.ukelikethepros.com
Ten Thumbs: www.tenthumbspro.com  Check the tutorials on playing songs.
When we return:
Come join us in our new home -- The Grand Canyon Room at Everglades Recreation Center.  Doors open at 1:00PM every Thursday.  Click here for more information.  Click here for directions.
Reservations are no longer needed.  Everglades Rec Center has seating for over 200 strummers.
Read the latest "Newsletter" for up-to-date news, notes and kudos. It is no longer sent by email. 
We continue to edit our song format to make our songs easier for everyone to read.
SONGBOOKS:  Latest edition of our UPC Songbook (9/2019) now available for $10.00.  Packets of new songs available for $2.00.  (Please have correct change.)  The UPC Songbook, The UPC Christmas Songbook, and the Ukes on the Square Songbook are also available online in DropBox.  Send request to: info@ukuleleplayersclub.com. 
Club Shirts are available.  Click here for more info.
The UPC Performance Group is available to provide entertainment for local clubs and groups. 
Strum With Us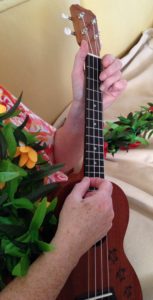 Playing the ukulele is one of the fastest growing crazes not only in The Villages but in the country.  Over 100 ukulele players have been meeting regularly at Lake Miona on Thursday afternoons for 90 minutes of singing and strumming for 7 years.   On January 30, 2020, we moved to our new location: Everglades Rec Center.  Singers come to the mikes to sing but everyone plays as music is shown on the screen for all to see.   No need to worry about hitting a wrong note: with so many ukuleles no one will know.  Besides, how many balls did Tiger hit before he won a tournament?  Come wearing a frown and leave wearing a smile.
See you Thursday at Everglades Rec Center: 1:45PM for classes, 2:30PM for play.  Doors open at 1:30PM.