WELCOME TO THE UKULELE PLAYERS CLUB WEB PAGE
The UPC Wishes Safe Travels and Healthy "Vacations" for all our SEASONAL STRUMMERS and we're hoping you return to us soon. Happy Trails...
UPC THURSDAYS: Doors open @ 12:50 PM

THE GRAND CANYON THEATER AT THE EVERGLADES RECREATION CENTER. (See Schedule below.)
Thank you all for your weekly attendance, support and your great talents and energy........It's been a long year and over the last six months you have been a beacon of hope and joy to the Villages Ukulele Community........Keep Strumming!!
SESSION SCHEDULE:
12:50 PM Doors open / Set Up / Seating
1:10 PM Announcements/Direction/Protocols - Social Distancing
1:15 PM Open Play
2:15 PM Dismissal / Break Down
FOR FURTHER INFORMATION about the last session, future sessions, Classes, UPC Performances, UPC Member Credits, Other Village ukulele clubs and News, Session Reviews and Activities please go to the "NEWSLETTER" section of the web site.
UPC Meeting Etiquette:
Masks Requested

No Classes at this time.

No coffee.

One hour long session (to start)

Seating plan allots seating for 64 attendees, Adjusted Capacity 
Chairs are spaced and staggered. No Moving Chairs.

Accommodations will be handled by Everglades RC Staff.

No Loaner Books

Mandatory sign ins: Name and E-mail address
First come, first served.

Materials displayed on the screen.

UPC Sound System only, utilizing four designated mics.

there are four designated Singers, rotating weekly.

2 Satellite mics for open sing...singers must wear a mask.

Those wishing to sing the following week must sign up at the current session

Audience Members requested to wear masks and stay seated.
Masks: At this time masks are REQUESTED NOT MANDATORY for the recreation centers. We strongly encourage our members to utilize masks during our sessions. Trusting our members with decisions regarding their own health issues is Ok as long as minimum set guidance is followed – so your decisions are not putting others at risk.
Strum With Us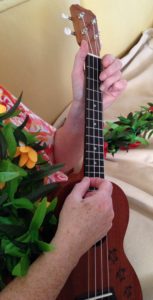 Playing the ukulele is one of the fastest growing crazes not only in The Villages but in the country.  On January 30, 2020, we moved to our new location: Everglades Rec Center.  Singers come to the mic to sing but everyone plays as music is shown on the screen for all to see.   No need to worry about hitting a wrong note: with so many ukuleles no one will know.  Besides, how many balls did Tiger hit before he won a tournament?  Come wearing a frown and leave wearing a smile.
See you Thursday at Everglades Rec Center.