Wishing all our members a very
Safe and Peaceful
THANKSGIVING
REMINDER: 11/26 SESSION CANCELED -  RECREATION CENTER IS CLOSED
UPC THURSDAYS @ 12:45 PM
IN THE GRAND CANYON THEATER AT THE EVERGLADES RECREATION CENTER. (See Schedule below.)
Check out the UPC Newsletter for further information.
SESSION SCHEDULE:
12:50 PM Doors open / Set Up / Seating
1:10 PM Announcements/Direction/Protocols - Social Distancing
1:15 PM Open Play
2:15 PM Dismissal / Break Down

Masks Requested
Everyone must sign in giving name, phone number and/or e-mail address each time he/she comes.    Several tables will be set up in the back of the room.  Please make sure you sign in before leaving.
CANCELED UPC Ukulele on the Square, 2020 CANCELED

UP Meeting Etiquette
No Classes at this time.

No coffee.

One hour long session (to start)

Seating plan allots for 44 audience seatingl Capacity, 6' distancing and staggered. Please No moving chairs. 

Accommodations will be handled by Everglades RC Staff.

No Loaner Books

Mandatory sign ins: Name and Phone Number
First come first served.

Materials displayed on the screen.

UPC Sound System only, utilizing four designated mics.

Singers will consist of four designated persons (2 male-2 Female.) One per mic., facing stage, 6'+ apart.

Those wishing to sing the following week must sign up at the current session

Audience Members requested to wear masks and stay seated.
Audience Members will please refrain from singing due to 20' spray area.
F Y I
Please Read Below from the Villages Community Development Districts:
As a result of the pandemic COVID-19 and to make every effort to protect staff, you and your attendees; The Villages Community Development. Districts are applying the Centers for Disease Control & Prevention (CDC), Federal, State, and Local Health Agency guidelines for managing public use of facilities. Information and requirements are subject to change. All attendees are responsible for their health and safety and understand that they utilize facilities at their own risk.
Requirements are the following:
All attendees must be free from COVID-19 symptoms including
No Fever (Temp over 100.3 F)

Dry Cough

Shortness of Breath

Muscle Aches

Sore Throat

Chills

Loss of Taste and Smell

Vomiting / Diarrhea
Mask will be required where and if social distancing may not be achieved when interacting with employees. Room capacities and setups are predetermined per the guidelines to achieve social distancing.
Kitchen access and use will be limited until further notice.

Regular Hand Washing with soap for 20 seconds.

Comply with guidelines and directives as ordered or issued by all Federal,

State, County and Local legislative and health entities.

Notify staff immediately if made aware of any person who may have been

in a facility or come in contact with staff that has tested positive COVID-19

or begins to exhibit symptoms.

Attendees will not be permitted to use or access facilities if they have been

diagnosed with COVID-19 or been placed on quarantine for possible

contact with COVID-19 until medically cleared.

Attendees will not be permitted to use or access facilities if they have

traveled in one of the CDC designated high-risk states or countries until

they are medically cleared.
Masks: At this time masks are REQUESTED NOT MANDATORY for the recreation centers. We strongly encourage our members to utilize masks during our sessions. Trusting our members with decisions regarding their own health issues is Ok as long as minimum set guidance is followed – so your decisions are not putting others at risk.
Other Clubs:
We have been notified of the following activities by other ukulele friendly clubs.
The Hummers and Strummers Club: Will resume weekly meetings at 10 AM on 11/10 at the Bridgeport R.C. 
Banjolele Strings Club: will resume meeting on Tues, 11/10 at 12:00 Noon at the O'Dell R.C.
The Villages Ukulele Club: will be meeting on Tues., 10/27 at 4:00 PM at the South Pavilion in Sumter, across the street from Sonny's Barbecue parking lot..
Strum With Us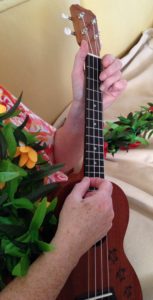 Playing the ukulele is one of the fastest growing crazes not only in The Villages but in the country.  On January 30, 2020, we moved to our new location: Everglades Rec Center.  Singers come to the mic to sing but everyone plays as music is shown on the screen for all to see.   No need to worry about hitting a wrong note: with so many ukuleles no one will know.  Besides, how many balls did Tiger hit before he won a tournament?  Come wearing a frown and leave wearing a smile.
See you Thursday at Everglades Rec Center.