Ovid UPdateWELCOME TO THE UKULELE PLAYERS CLUB WEB PAGE
NEXT SESSION - THURSDAY - 1/20/22
Grand Canyon Theater
Everglades Recreation Center
The Villages, Fl.
COVID UPDATE
On 1/18, a UPC member notified Dennis that they had tested positive for COVID recently. This member participated in the 1/11 Performance at Coconut Cove,the 1/12 Performance at A Banyan and at the 1/13 UPC Session at the Everglades R.C. by singing at a single selected mic. Apparently the member displayed symptoms after the session on 1/13.
On 1/20 Another UPC member advised us that they had tested positive for COvid after displaying minor symptoms. this member participated in the 1/11 performance and the 1/13 UPC session by singing at a mic. 
Two UPC members, aware of the above, have tested NEGATIVE.
Please evaluate your own exposure risks and take appropriate actions. 
Bill Pope UPDATE
We have been in contact with Bill's wife, Barb Pope, who has given us permission to share this information about our Bill. 
Bill is currently in the Leesburg Hospital ICU due to COVID related pneumonia. He is responding to treatment and eating. 
Please keep Bill and his family in your thoughts and prayers.
Thank you all for your weekly attendance, support and your great talents and energy........You have been a beacon of hope and joy to the Villages Ukulele Community........Keep Strumming!!
Weekly Session Schedule
12:30 PM- Set Up, Classes, Loaner Uke Tuners, Sound System
12:45 PM- First Step and Next Step Classes
1:45 PM- Doors open, song sign ups
2:00 PM- Open Sing (1 Hour)
January Session Schedule
Grand Canyon Theater, Classes/Open Sing - Thurs., 1/6, 1/20, 1/27
Rocky Mountain/Acadia Art Rooms – Thurs., 1/13
January Performances
Wed., 1/26, 7:15 PM at the Coconut Cove R.C. for the Kia Soul Club (Arr: 6:45 PM)
FOR FURTHER INFORMATION about the last session, future sessions, Classes, UPC Performances, UPC Member Credits, Other Village ukulele clubs and News, Session Reviews and Activities please go to the "NEWSLETTER" section of the web site.
UPC Meeting Etiquette:
One hour long session (to start)
Seating plan allots seating for 70 attendees.  

Accommodations will be handled by Everglades RC Staff.

All materials displayed on the screens.

UPC Sound System only, utilizing four open mics.

Singers can pick favorite songs rom our Play List, see Bill.
Strum With Us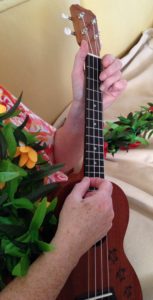 Playing the ukulele is one of the fastest growing crazes not only in The Villages but in the country.  On January 30, 2020, we moved to our new location: Everglades Rec Center.  Singers come to the mic to sing but everyone plays as music is shown on the screen for all to see.   No need to worry about hitting a wrong note: with so many ukuleles no one will know.  Besides, how many balls did Tiger hit before he won a tournament?  Come wearing a frown and leave wearing a smile.
See you Thursday at Everglades Rec Center.