WELCOME TO THE UKULELE PLAYERS CLUB WEB PAGE
UPC THURSDAYS @ 12:50 PM

IN THE GRAND CANYON THEATER AT THE EVERGLADES RECREATION CENTER. (See Schedule below.)
UPC UPDATED MEETING SCHEDULE


MEETINGS FOR 1/28/21 CANCELED/RC EVENT

NEXT SESSION IS 2/4/21 

It has come to our attention that a person who attended the UPC meeting on Thursday, 1/14/21 was exposed to a person who was previously exposed to another person who has tested positive for Covid-19.

The UPC Covid Advisory Protocol was successfully put into place on 1/16. And thanks to Jean and our sign up crew (Darry) we were able to notify all those who signed in for the 1/14 session.

The advisory is over as the member who reported the exposure has since tested negative. Thank you all for your cooperation In this matter.

UPC NOTE: If for any reason a UPC session is CANCELLED or NOT SCHEDULED we will put the info on the WEB PAGE. For those of you who are not informed of the cancellation, or just decide to go anyway:

If the Everglades Recreation Staff provides you with a room the UPC WILL NOT take the responsibility of notifying those in attendance of a Covid exposure/protocol. We will not have a list of attendees. It is YOUR RESPONSIBILITY to keep a list and notify this e who attended. 

Thank you for your cooperation in this matter and please stay safe.

As always, Jean, Tim and Dennis.

THURSDAY - 1/28 - CLOSED - SPECIAL EVENT
NEXT SESSION THRUSDAY -2/4
THURSDAY - 2/11 - Hits of the Villages / Love Songs - ROCKY MOUNTAIN RM (3 SCREENS)
FOR FURTHER INFORMATION ABOUT THE LAST SESSION AND FUTURE SESSIONS PLEASE GO TO THE "NEWSLETTER" SECTION ON THIS WEB SITE.
Check out the UPC Newsletter for further information.
SESSION SCHEDULE:
12:50 PM Doors open / Set Up / Seating
1:10 PM Announcements/Direction/Protocols - Social Distancing
1:15 PM Open Play
2:15 PM Dismissal / Break Down

Masks Requested
Everyone must sign in giving name, phone number and/or e-mail address each time he/she comes.    A Table will be set up in the back of the room with pens.  Please make sure you sign in before leaving.
UPC Meeting Etiquette
No Classes at this time.

No coffee.

One hour long session (to start)

Seating plan allots seating for 50 attendees,Total Capacity 
Chairs are 6' apart and staggered. No Moving Chairs.

Accommodations will be handled by Everglades RC Staff.

No Loaner Books

Mandatory sign ins: Name and Phone Number
First come first served.

Materials displayed on the screen.

UPC Sound System only, utilizing four designated mics.

Singers will consist of four designated persons (2 male-2 Female.) One per mic., facing stage, 6'+ apart.

Those wishing to sing the following week must sign up at the current session

Audience Members requested to wear masks and stay seated.
Audience Members will please refrain from singing due to 20' spray area.
Masks: At this time masks are REQUESTED NOT MANDATORY for the recreation centers. We strongly encourage our members to utilize masks during our sessions. Trusting our members with decisions regarding their own health issues is Ok as long as minimum set guidance is followed – so your decisions are not putting others at risk.
Other Clubs:
We have been notified of the following activities by other ukulele friendly clubs.
The Hummers and Strummers Club: Has resumed weekly meetings at 10 AM on 11/10 at the Bridgeport R.C. 
Banjolele Strings Club: Has resumed meeting on Tues, 11/10 at 12:00 Noon at the O'Dell R.C.
Strum With Us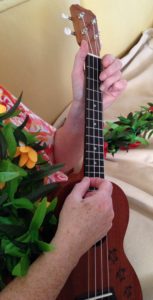 Playing the ukulele is one of the fastest growing crazes not only in The Villages but in the country.  On January 30, 2020, we moved to our new location: Everglades Rec Center.  Singers come to the mic to sing but everyone plays as music is shown on the screen for all to see.   No need to worry about hitting a wrong note: with so many ukuleles no one will know.  Besides, how many balls did Tiger hit before he won a tournament?  Come wearing a frown and leave wearing a smile.
See you Thursday at Everglades Rec Center.