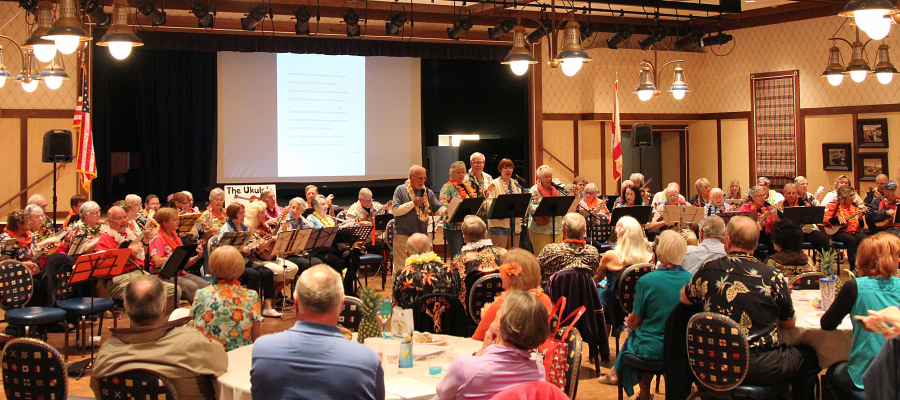 What we do
The Performance Group provides "Sing-A-Longs" for local groups.  Up to 20 - 30 members sing and play for 30 - 60 minutes.  We show words on a screen so our audience can join the fun.  We do not charge a fee but do request a donation that we forward to The Wildwood Food Pantry.
UPC PERFORMANCE GROUP SCHEDULE FOR 2022:
Fri., 6/3, 6:45 PM, at Colony RC for the Brooklyn Club (Arr: 6:30 PM) Club
Sat, 6/11, 7 PM, at Lake Miona R.C. for the New Jersey Social Club (Arr: 6:40 PM) Club
Eugene's Great Videos of previous UPC Performance events. Just click the "Link"  prompt on the Performance Info to view.
Tues., 12/14/21 Performance at Bradenton R.C.  "LINK"
Reminder to UPC Performers:
Please arrive 15-20 minutes before Performance.
Dress neatly in bright colored clothes. Gentlemen please wear long pants.
Singers sit in front row.
Pick a chair and leave an item on it. Hold off on music stands and ukes.
Please, no playing and/or singing until we start the show.
Please start songs together and sing together. Dennis will do intros.
Sit, Smile, Sing and Strum..........have a great time.
Received this comment from one of our members:
"One of my friends attended the 'Scandinavia Club' meeting and was greatly impressed by the performance. He especially enjoyed the hula and the military medley. Thought you would like to know how impressive the performance group was."
The Ukulele Players Club at the 2019 Music Lover's Showcase 9/27/19


Thank you Eugene for the video.
More photos from recent performances...